Image by PIKSEL via Canva
Research shows that knee replacement surgery has a high satisfaction rate of 80% to 100%, but about 10% to 34% of people will develop pain as a complication following their knee replacement. [1] Having some pain, swelling, and bruising is a normal part of the recovery process following a knee replacement where pain typically lasts several weeks after the knee replacement. [2] Although pain is completely normal, it can be uncomfortable and may prevent you from continuing your exercises, knee movements and rehabilitation. The good news is that there are many ways to reduce and relieve pain following your knee replacement.
Pain Medications
Before you leave the hospital your surgeon may prescribe oral pain medications, such as ibuprofen (Advil, Motrin) or naproxen (Aleve). If severe pain persists, your doctor may prescribe stronger pain relievers. [2] Although pain medications reduce and relieve pain, there are many non-medicine ways of reducing and relieving pain following a total knee replacement.
Non-Medicine Pain Relief
First, physical activity, such as going for a walk is a great way to reduce discomfort as spending too much time lying down or sitting in one position can cause pain, muscle cramps or fatigue. [3] When sleeping, lying down can also cause pain, so changing the position of your body in the bed can reduce pain and discomfort. You should also keep your hips, back and head in proper alignment, where proper alignment of the spine when lying down is similar to the position of the spine when in natural standing position.[4] This can prevent muscle strains and joint or back pain. Although physcial activity is important for your recovery, ensure you are allowing your body to rest and recover from surgery.
Next, gently massaging your knee and the muscles surrounding the knee allows your muscles to relax and helps get your blood flowing, reducing pain, anxiety, muscle tension and stress. Stimulating blood flow to your leg can be also achieved by placing a pillow under your calf or ankle and raising your leg above your heart. [5] This allows blood to circulate without fighting gravity, which reduces swelling and brings oxygen-rich blood to your leg. [6]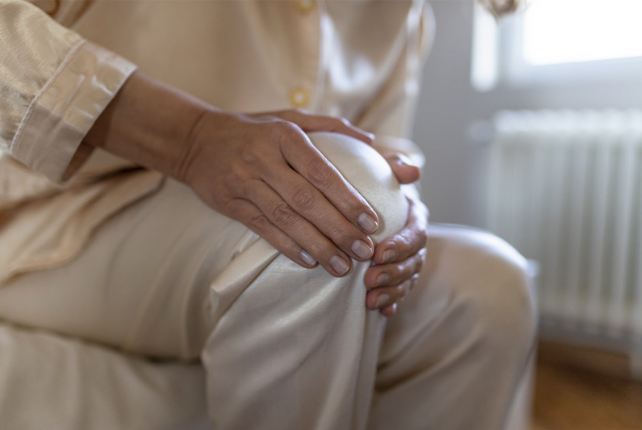 Image by PixelsEffect via Canva
Applying ice or a cold pack to your incision is also a great way to help ease pain after surgery. The cold reduces discomfort and swelling by numbing nerve endings. Using a clean and dry towel, place the cold pack on your knee for 15 to 20 minutes at a time. [5] After the initial swelling has gone down, you can also alternate between ice and heat to relax the muscles and ease stiffness. [7]
Mindfulness techniques bring awareness to what you are thinking, feeling, and perceiving in the present moment. This includes breathing exercises and yoga, which allows you to be more aware of what is happening in the moment. Using mindfulness techniques manages pain by lowering your heart rate and blood pressure and increasing blood flow to your muscles. [8] Mindfulness techniques are also shown to increase mood and reduce feelings of stress.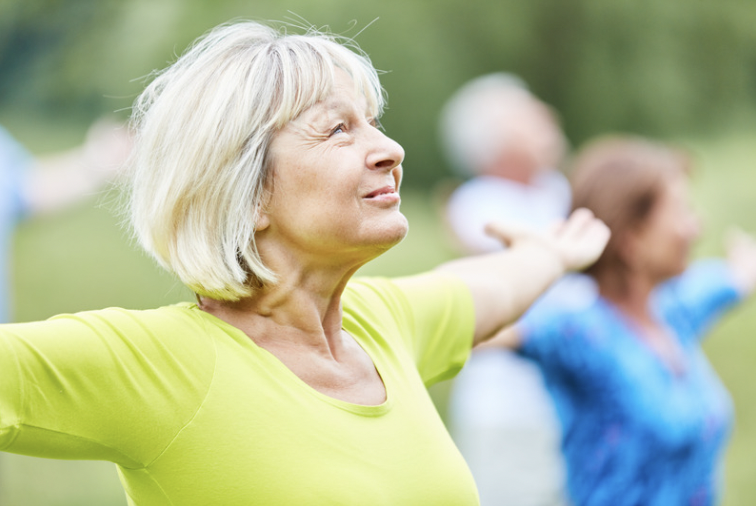 Image by Robert Kneschke via Canva
Finally, taking your rehabilitation seriously by following directions from your surgeon and your physical therapist will reduce pain and discomfort. This includes completing your prescribed exercises and going to physical therapy. [7] Health practitioners also suggest practicing healthy habits after a knee replacement. This includes quitting smoking and avoiding drinking alcohol. Staying healthy and keeping your body healthy encourages faster healing. [7]
Conclusion
Although pain, swelling, and bruising are a normal part of the recovery process following a knee replacement, there are many ways to reduce pain and discomfort following your knee replacement. This includes taking prescription medication, but also non-medicated ways such as being physically active, massaging the area, icing, mindfulness techniques and following rehabilitation protocols.
Want to learn more about knee replacements? Try the Curovate app, an evidence-based app that will provide you with a physical therapy plan, guided video exercises and ways to measure and monitor your rehabilitation progress! Download Curovate today by clicking the links below.
Other recommended blogs
References
1. Li, Cheuk Yin, Kenneth Jordan Ng Cheong Chung, Omar ME Ali, Nicholas DH Chung, and Cheuk Heng Li. Literature review of the causes of pain following total knee replacement surgery: prosthesis, inflammation and arthrofibrosis. EFORT open reviews. 2020; 5(9): 534-543
2. Greengard, S & Kinman, T. How to Manage Pain, Swelling, and Bruising After a Total Knee Replacement. Healthline. Updated January 5, 2021. Accessed November 3, 2022.
3. Allina Health. Pain after surgery. Updated January 2, 2020. Accessed November 3, 2022.
4. Bueno, Silmara, and Cristina Frange. "Sleep Ergonomics." Sleep Medicine and Physical Therapy. Springer, Cham, 2022: 345-356.
5. Allina Health. Pain after surgery. Updated January 2, 2020. Accessed November 3, 2022.
6. Miller, Jane, Amy Dunion, Nina Dunn, Carolyn Fitzmaurice, Margaret Gamboa, Sarah Myers, Paula Novak et al. "Effect of a brief massage on pain, anxiety, and satisfaction with pain management in postoperative orthopaedic patients." Orthopaedic Nursing 34, no. 4 (2015): 227-234.
7. Active Implants. 6 Do's and Don'ts After Knee Surgery. Accessed November 3, 2022.
8. Bay, Samantha. "Psychology in Total Knee Replacement Surgery: Patient Needs, Interventions and Personality Traits." PhD diss., The University of Western Australia, 2021.