Image by FatCamera from Canva Pro
Are you recovering from a knee injury or knee surgery and being asked to fill out a questionnaire called the Knee Injury and Osteoarthritis Outcome Score (KOOS)? This blog is going to highlight the purpose of these questionnaires and will explain what the KOOS is and how it is relevant for you and your recovery process. The first section will discuss the purpose of these questionnaires in general and why you should care about them. The second section will focus specifically on the KOOS and explain who it is designed for, what it measures, how it is scored, what it tells you about your knee and how it is relevant for you.
Why should I give feedback and are there any benefits to me?
Do you ever wonder why smartphones keep getting bigger or why your favourite website is constantly changing their homepage? Well it all comes from asking people what they want and then incorporating some or all of this feedback into the design of products and services.
For example, if you are using our app, Curovate, for your knee replacement, ACL injury or surgery recovery or hip replacement recovery you have likely seen these!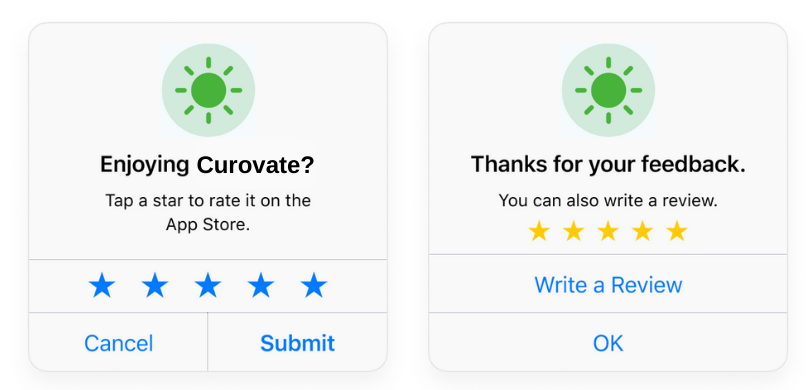 The purpose of this is to understand how you are experiencing the app so that we can make changes to improve your at-home recovery after surgery and injury. You might be thinking, "if the product works, I'll be happy with the results," or "providing the feedback only helps the creators and does not benefit me," but that is not the case. For example, a water bottle may advertise as the perfect insulated bottle that can keep liquids cold for 42 hours. Although you love the insulated feature of the bottle, you may not buy it because you just hate the way it looks or because the design of the bottle makes it impractical for you to carry around. By providing your feedback, you are not only helping the creator of the product, but also helping to create something for yourself as well.
What is a patient reported outcome measure or PROM and why should I care?
The same concept of feedback is important within the healthcare industry. For example, if you are a weightlifter recovering from an ACL reconstruction surgery, there are a few key factors to consider as it relates to your recovery. First, you want to make sure that the surgery was successful at repairing your ACL. Secondly, as a weightlifter, you also want to make sure that you are able to continue lifting heavy weights and doing what you love.
To measure both aspects and determine the effectiveness of the treatment, two different outcome measures are used. Objective clinician-based outcome measures (CBOMs) typically involve clinical data such as range of motion, knee laxity or knee strength which is gathered objectively by your healthcare provider.[1] CBOMs would be useful to determine if your ACL reconstruction surgery is successful from a clinical standpoint.
In contrast, patient-reported outcome measures (PROMs) allow you to report your symptoms, your level of impairment and your health-related quality of life all from your perspective.[2] Thus, PROMs can be used to let your clinician know about any limitations you may be experiencing that may be hindering your ability to weightlift. PROMs can also allow you to better understand if you are making progress while recovering from an injury or surgery.
While CBOMs are defined by a standardized outcome from a clinician's perspective,[3] PROMs aim to help you achieve the outcome that YOU desire by allowing you to report symptoms that are most relevant to you and your lifestyle.[4]
What specifically is the KOOS, who is it for and what does it ask?
Given that different conditions require different treatments, accordingly, there are specific outcome measures to assess a specific treatment as well. A reliable and valid PROM specialized for people with a variety of knee conditions including ACL injuries, ACL surgeries, meniscus injuries, focal cartilage lesions, knee osteoarthritis, knee replacement and various other knee conditions, is the Knee Injury and Osteoarthritis Outcome Score (KOOS).[5][6] The KOOS has been used by individuals in their twenties to those in their eighties.[6] The KOOS is a self-reported questionnaire that takes approximately 10 minutes to complete and you are asked to fill it out once before the treatment or surgery begins, and once more after the treatment or surgery takes place.[5]
In terms of questions, the KOOS assesses five of the following dimensions: pain (nine items); symptoms (seven items); activities of daily life function (17 items); sport and recreation function (five items); and knee-related quality of life (four items).[5] Here is an example of the entire KOOS questionnaire for your reference.[5]
How is the KOOS scored?
Each item on the KOOS is scored on a 5-point Likert scale with 0 representing the least severe and 4 representing the most severe.[4] A 5-point Likert scale allows you to demonstrate how strongly you feel towards a given question and provides you with five options in which you select the one that best represents how you feel.[7] An example question from the symptoms dimension of the KOOS as well as the 5-point likert scale can be found in the image below:

Each response is associated with a score and each item score then gets summed to give a total for that specific dimension. For example, the scores of all nine items from the pain dimension will be summed to give an overall score for pain. The overall scores from each of the five dimensions are then transformed to a 0-100 scale, with zero representing extreme knee problems and 100 representing no knee problems.[5]
What does the KOOS tell me about my knee and why is it important for me and my recovery process?
A KOOS is typically completed after injury, after treatment, before surgery and after surgery. The KOOS can provides insight into the course of your knee injury or knee surgery and also allows healthcare providers to track the effects of treatment over time.[8] It is important and necessary to have tests that can measure both short-term and long-term outcomes since traumatic knee injuries often result in damage to multiple structures such as ligaments, menisci or cartilage[8] and can eventually leads to knee osteoarthritis, a degenerative joint disease characterized by pain, stiffness, swelling and limitations in joint function.[9] Thus, given its ability to track both the short and long term effect, the KOOS is an effective tool to measure improvements or to catch deterioration over time for people recovering from traumatic knee injuries.
As a person who has had a knee injury or surgery, it is valuable to compare your own KOOS scores to other people who have had a similar injury or surgery. In doing so, this can help you determine your level of function, progress and impairment at a particular point in time relative to others who have gone through the same injury or surgery.[10] In part 2 of the KOOS blog, we will discuss normative values for the KOOS and how to make sense of these scores so that you can compare your progress and understand what is normal progress.
Conclusion
A PROM is a patient reported outcome measure. Typically people complete these questionnaires after injury, before surgery, after treatment, after surgery and when they have completed treatment or rehabilitation. These questionnaires provide some insight into how the person is doing and can show progress or a lack of progress. PROM's are important for you and your healthcare provider to better understand your current abilities and limitations. One such PROM is called the Knee Injury and Osteoarthritis Outcome Score or KOOS. The KOOS asks various questions about pain (nine items); symptoms (seven items); activities of daily life function (17 items); sport and recreation function (five items); and knee-related quality of life (four items). The KOOS only take 10 minutes to complete and can provide a lot of insight into how your knee is doing. Read the blog above to learn more about PROM's and the KOOS. Stay tuned for our second part of the KOOS blog that will provide normal values for various knee injuries and surgeries.
If you have had a knee injury or surgery try our app Curovate for your daily recovery. Curovate provides video-guided daily exercises, progress tracking, the ability to measure your knee and hip range of motion and the ability to complete the KOOS outcome measure all within the app.
If you need further customized assistance during your surgery or injury recovery check out our Virtual Physical Therapy page to book your 1-on-1 video session with a physical therapist.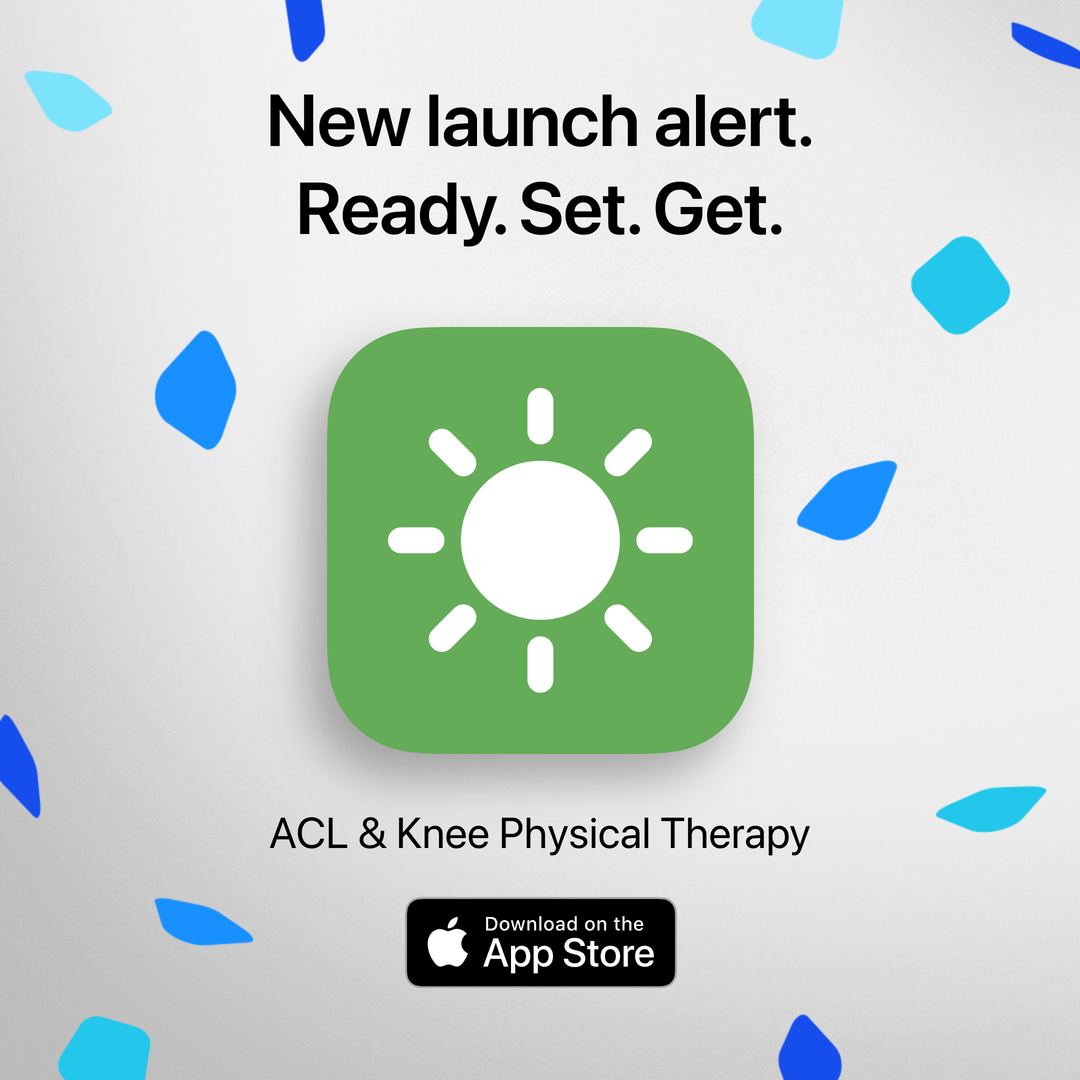 Other recommended blogs
References
1. Wright RW. Knee injury outcomes measures. Journal of the American Academy of Orthopaedic Surgeons. 2009;17(1):31-39. doi:10.5435/00124635-200901000-00005
2. Kingsley C, Patel S. Patient-reported outcome measures and patient-reported experience measures. BJA Education. 2017;17(4):137-144. doi:10.1093/bjaed/mkw060
3. Svantesson E, Hamrin Senorski E, Webster KE, et al. Clinical outcomes after Anterior Cruciate Ligament Injury: Panther Symposium ACL Injury Clinical Outcomes Consensus Group. Orthopaedic Journal of Sports Medicine. 2020;8(7). doi:10.1177/2325967120934751
4. Krogsgaard MR, Brodersen J, Christensen KB, et al. What is a prom and why do we need it? Scandinavian Journal of Medicine & Science in Sports. 2020;31(5):967-971. doi:10.1111/sms.13892
5. Roos EM, Roos HP, Lohmander LS, Ekdahl C, Beynnon BD. Knee injury and osteoarthritis outcome score (koos)—development of a self-administered outcome measure. Journal of Orthopaedic & Sports Physical Therapy. 1998;28(2):88-96. doi:10.2519/jospt.1998.28.2.88
6.Collins NJ, Prinsen CAC, Christensen R, Bartels EM, Terwee CB, Roos EM. Knee injury and osteoarthritis outcome score (KOOS): Systematic Review and meta-analysis of measurement properties. Osteoarthritis and Cartilage. 2016;24(8):1317-1329. doi:10.1016/j.joca.2016.03.010
7.Joshi A, Kale S, Chandel S, Pal D. Likert scale: Explored and explained. Current Journal of Applied Science and Technology. 2015;7(4):396-403. doi:10.9734/bjast/2015/14975
8.Roos EM, Lohmander LS. The Knee injury and Osteoarthritis Outcome Score (KOOS): from joint injury to osteoarthritis. Health and Quality of Life Outcomes. 2003;1(64). doi:10.1186/1477-7525-1-64
9.Allen KD, Thoma LM, Golightly YM. Epidemiology of osteoarthritis. Osteoarthritis and Cartilage. 2022;30(2):184-195. doi:10.1016/j.joca.2021.04.020
10.Kendall PC, Marrs-Garcia A, Nath SR, Sheldrick RC. Normative comparisons for the evaluation of clinical significance. Journal of Consulting and Clinical Psychology. 1999;67(3):285-299. doi:10.1037/0022-006x.67.3.285