Image by Haley Phelps on Unsplash. Why is my knee numb and tingly after ACL surgery?
Following any surgery you may experience numbness, specifically around the area that was operated on. This is a normal side effect of undergoing surgery. How much of the area, and how long the numbing and/or tingling lasts, will depend on certain factors.
The type of anesthesia used during the surgery is one factor. Anesthesia is medication that puts you into an unconscious sleep during surgery, so that you don't feel pain. It can either be general anesthesia, in which the entire body will feel the effects of the medication. What this means is that the whole body will be "asleep", in that you are not conscious and will not remember anything from the surgery.
Another type of anesthesia is called regional anesthesia, where one area of the body is targeted. For example, if regional anesthesia is used for a knee surgery, you would be able to remember the surgery because you are conscious during it. So although you would be awake during the surgery, you would feel nothing from the waist down.[4]
For an ACL reconstruction surgery, general anesthesia is typically used. As the medication wears off, you may feel numbness and/or tingling for a few hours after the surgery. However, many times a regional anesthesia is used for the surgery, specifically something called a nerve block. This targets the nerves surrounding the knee to prevent pain during and partially after surgery, and is in addition to the general anesthesia. This can cause numbness and/or tingling around the incision, or area that was operated on, to last for up to 24 hours after your surgery.[4]
For an ACL reconstruction, the type of graft that is used will have the greatest influence on whether a person can expect to feel numbness and tingling. If you're not sure what types of ACL grafts exist, read about the different kinds here.
One of the most common grafts used in an ACL reconstruction is the hamstring tendon autograft. While it is thought to be one of the strongest grafts used to repair an ACL, more than 80% of people report numbness in their injured knee after surgery.[2] [3]
Another option for ACL reconstruction is the soft tissue allograft, which uses tissue from a deceased organ donor. Additionally, a quadriceps tendon autograft may be used to repair your ACL, by taking a piece of the tendon, tissue that connects your muscles to bone, in your thigh. Both the soft tissue allograft and the quadriceps tendon autograft have lower percentages of people who experience numbness, when compared to the hamstring graft.[1] [7]
While this may seem daunting, it is important to note that numbness after ACL reconstruction does not significantly impact the knee's function, pain or the person's mental health.[5]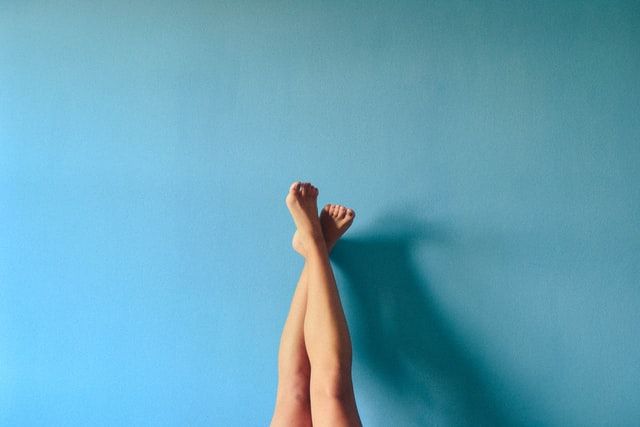 Photo by Lucrezia Carnelos on Unsplash Why is my knee numb and tingly after ACL surgery?
So why does the hamstring tendon autograft cause the most numbness after surgery? It has to do with the structures of the body that are within the margins of the surgery. Our ability as humans to have the sense of touch, pain, temperature, vibrations, and so on, come from something called sensory nerves. Simply put, these nerves are responsible for telling our brain about the environment around us. For example, if you were to put a finger on your knee, you are able to feel this even with your eyes closed. This can happen because the sensory nerves get a signal, and then relay what is happening to your brain.
Each sensory nerve is responsible for perceiving the sensation of certain areas of your body/skin. For example, let's talk about the sensory nerve that is most injured during ACL reconstruction, the saphenous nerve.[1] This nerve is responsible for people being able to recognize sensation from the inner side of the knee and downwards to the ankle. So if after an ACL reconstruction, there is numbness or tingling in this area of the knee and/or shin, it is most likely due to damage to the saphenous nerve.
For some people, the area of skin that feels numb is in the shape of a circle, close to the incision site. Normally, the only issue that this causes people is an odd feeling when kneeling.[1] [2] [6] Damage to a nerve can be from something pressing on it, being stretched, or accidentally injured. As a result, it alters how we recognize sensation in that area. In fact this is one reason why we may feel numb on areas of the body, and why someone may instead feel "tingling". This damage to the nerve can be temporary, or permanent.
Previous research found up to 80% of people who had numbness or tingling still felt this 6 months after surgery.[6] Although, about half of the people with these symptoms had a decrease in the size of the area affected within a year of their ACL reconstruction.[6] This means that the healing process from 6-12 months seemed to be the greatest recovery period for the injured nerve. It will not be considered permanent damage until the numbness and/or tingling is present for 18-24 months.[1]
It is a good idea to keep your healthcare team in the loop with how, and what symptoms you are feeling after your ACL reconstruction.
Conclusion
The feeling of numbness and/or tingly after surgery is a normal side effect. This can last anywhere from a few hours until 24 hours after surgery. However, for an ACL reconstruction these effects may last for a longer period of time. This is especially true if you received a hamstring tendon autograft for your ACL reconstruction. There may be potential damage to your saphenous nerve, which is a sensory nerve, which can cause the numbness or tingling you are feeling. If there is injury to the nerve, these symptoms decrease the most 6-12 months after surgery, but have the potential to last permanently. It is rare for the numbness to be permanent and in most cases the area of numbness is quite small.
The Curovate app provides a step by step guide that will help you along your ACL recovery. There are options for whatever ACL rehab you need, with options of non-surgical, pre-surgical, a patellar tendon graft, and hamstring graft. If you received a quadriceps tendon or cadaver graft, then you can also select the patellar tendon option, because the precautions for rehabilitation and all of the necessary exercises are the same for all 3. Curovate includes daily exercise reminders, video guided exercises, and can accurately measure your ability to bend and straighten your knee. The Curovate app is available to download, just click the link below to get your recovery started today!
References
1. Horteur, C., Cavalié, G., Gaulin, B., Cohen Bacry, M., Morin, V., Cavaignac, E., & Pailhé, R. (2020). Saphenous nerve injury after anterior cruciate ligament reconstruction: Reduced numbness area after ligamentoplasty using quadriceps tendon compared with hamstring tendon. The Knee, 27(4), 1151–1157.
2. Inderhaug, E., Strand, T., & Solheim, E. (2015). The impact of sensory deficits after harvesting hamstrings autograft for ACL reconstruction. Knee surgery, sports traumatology, arthroscopy : official journal of the ESSKA, 23(4), 1060–1064.
3. Kjaergaard, J., Faunø, L. Z., & Faunø, P. (2008). Sensibility loss after ACL reconstruction with hamstring graft. International journal of sports medicine, 29(6), 507–511.
4. Nerve Blocks For Surgery - Yale Medicine. (2020, July 02). Retrieved from https://www.yalemedicine.org/conditions/nerve-blocks-for-surgery
5. Ochiai, S., Hagino, T., Senga, S., Yamashita, T., Oda, K., & Haro, H. (2017). Injury to infrapatellar branch of saphenous nerve in anterior cruciate ligament reconstruction using vertical skin incision for hamstring harvesting: risk factors and the influence of treatment outcome. Journal of orthopaedic surgery and research, 12(1), 101.
6. Sanders, B., Rolf, R., McClelland, W., & Xerogeanes, J. (2007). Prevalence of saphenous nerve injury after autogenous hamstring harvest: an anatomic and clinical study of sartorial branch injury. Arthroscopy : the journal of arthroscopic & related surgery : official publication of the Arthroscopy Association of North America and the International Arthroscopy Association, 23(9), 956–963.
7. Wang, H. D., Zhang, H., Wang, T. R., Zhang, W. F., Wang, F. S., & Zhang, Y. Z. (2018). Comparison of clinical outcomes after anterior cruciate ligament reconstruction with hamstring tendon autograft versus soft-tissue allograft: A meta-analysis of randomised controlled trials. International journal of surgery (London, England), 56, 174–183.