Image by Monkey Business Images via Canva
Knee replacement surgery is a common procedure that can relieve pain, improve knee function and contribute to psychological well-being. People may also feel better and have increased levels of physical activity. [1] You may have many questions about the types of activities you can engage in after a knee replacement or how long after your knee replacement can you be physically active. One common question is can I run after a knee replacement? There are many considerations and risk factors for running after a knee replacement, so the answer is not a simple yes or no.
There are no specific guidelines for acceptable recreational or athletic activity after a knee replacement. [1] The lack of well defined guidelines is because of ongoing debates whether or not running is safe after a knee replacement. Not only if it is safe, but who is it safe for and how long after the surgery can you begin running? Therefore, it is important for people with knee replacements to understand the impact of running on the outcome of their knee replacement, and the risks and benefits related to running and their total knee replacement. [1]
In general, people who have had a knee replacement are encouraged to participate in low-impact, low-demand sports, and avoid high-impact, high-demand sports. [1] Running is a high-impact activity because it involves both of your feet coming off the ground at the same time. This movement can put a lot of force on your bones and joints when you land, including your knees. However, there are variations among the suggestions between physicians and surgeons when it comes to running after a knee replacement. Some say that running should be avoided whereas others suggest it is prohibited or discouraged after total knee replacement. [3] Many researchers advise against running because of the increased risk of re-operation since running can lead to surgical reconstruction, implant failure, fracture or loosening. [1]
Long-Term Effects
There is also a lack of research regarding the long-term effects that running can have on a knee replacement. One study found that people who completed high-impact activities, such as running after their surgery demonstrated good condition during an assessment completed 4 years after their knee replacement. The researchers concluded that people are able to participate in intense sports for a minimum of 4 years. The reason why researchers stated a minimum of 4 years, is because the assessment was completed 4 years after their knee replacement, so the effects after 4 years is not clear. However, the researchers admitted that there is no basis to conclude that excessive physical activity, which is roughly 4 times a week and 3.5 hours per week, does not contribute to a more rapid wear of the knee replacement. [4]
Although we did not find a long term study that evaluated the impact of running on a knee replacement, we did find research for total hip replacement. We fully recognize that the hip and knee are functionally very different joints and that the impact that running has on the joints is quite different. However, we believe that there is something to learn from the evidence that does exist for running and total hip replacements. A study with a 10 year follow-up found that the effects of running on the long-term risk for loosening of the hip replacement are not evident until 10 years after surgery. Even up to 10 years after a hip replacement, the revision rates are not consistently different between physically active and non-active people. [2] Some research even shows that revision rates were nine times lower in patients who returned to sports. This may be because the patients had less severe disease before their hip replacement or that physical activity actually has a protective effect on the hip replacement by encouraging bone regrowth. However, the stress on the hip must be below a certain threshold, that has yet to be identified. What we do know is that harmful effects are not seen until 10 years after a hip replacement. [5]
How and When to Run
Physicians recognize that people are going to participate in whatever activities they wish after a knee replacement. [1] So, if you choose to run after your knee replacement, you should be mindful of how soon after the surgery you are running, your technique and your running shoes. It is also strongly encouraged to avoid recreational and athletic activities until the quadriceps and hamstring muscles are rehabilitated. Once muscle strength, mobility, and coordination have improved, choices regarding athletic activity can be made. [5] If you choose to engage in running, you should also avoid descents or uphills. [3]
There are also debates as to how long after a knee replacement someone can begin running. An online survey was conducted among surgeons of the European Knee Associates (EKA) to understand the recommendations for 47 sports disciplines after a knee replacement. The surgeons were asked to assign a sport to one of the four categories: allowed, allowed if patient is experienced, not allowed, or no opinion. The following time frames were also specified: 6 weeks after surgery, 6-12 weeks after surgery, 3-6 months after surgery or more than 6 months after surgery. Ten percent of surgeons in the study stated that running is allowed 6 weeks after surgery, and about 50% state it is allowed 6 months after surgery. However, due to inconclusive results, there is no opinion on whether running is recommended following surgery. Using the graph below, you are able to compare the four categories, and the time-line of running, but also running on a treadmill, jogging, and jogging on a road. [6]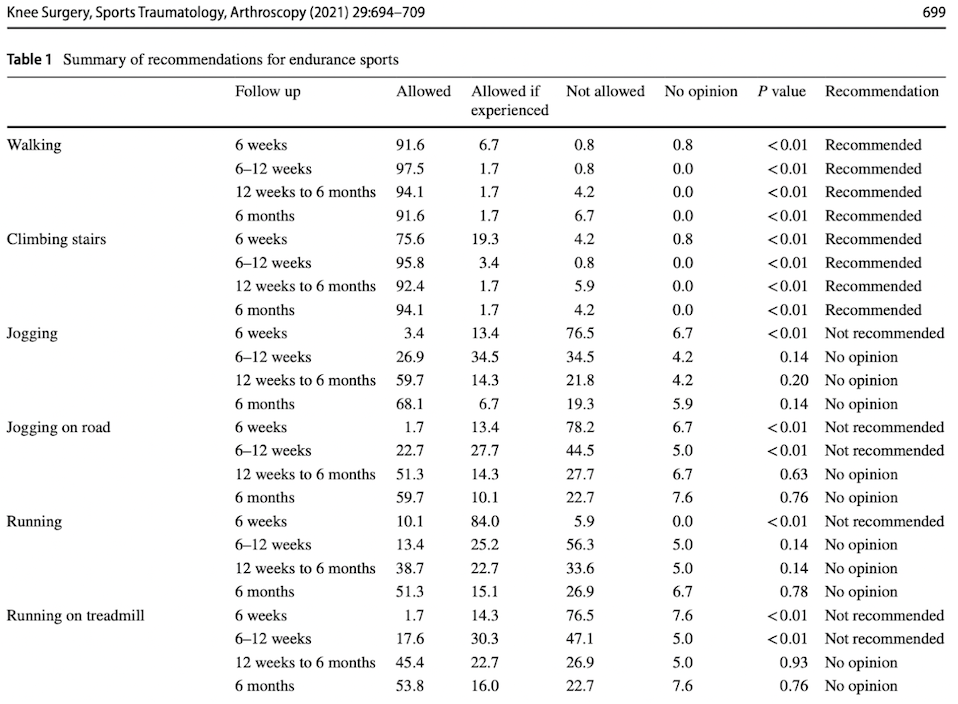 Table from Thaler and colleagues [6]
The survery included the category allowed if experienced because considerations for athletic activity after knee replacements include athletic activity before surgery. [1] Individuals who achieved a high level of skill in a sport before their knee replacement have the best chance of resuming the activity safely after surgery. People who did not participate in a specific sport before their knee replacement are less likely to achieve high skill levels and have an increased risk of injury.
If you have any questions, always consult your physician, physical therapist and/or surgeon. It is a surgeon's responsibility to educate their patients regarding risks associated with higher levels of activity, including the risk of trauma, implant loosening, and wear at the joint bearing surface. [1] An approach known as shared decision-making (SDM), allows patients and clinicians to work together to create a treatment plan tailored to the patient's situation. The SDM approach can include discussing physical activity, such as running with your physician. [6] Not all knee replacements are the same, so consulting with your surgeon ensures you are making the safest decision based on multiple factors including the design, technique of implantation, and post-operative rehabilitation options. [2]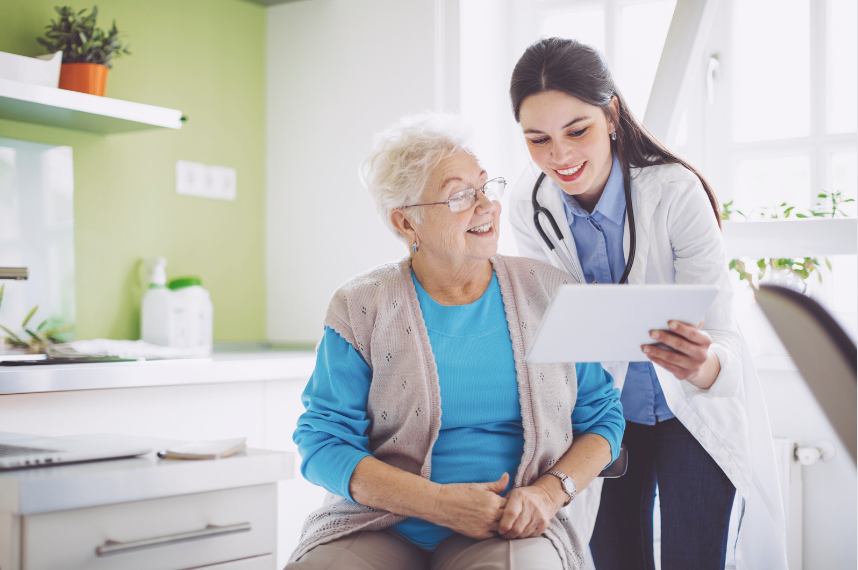 Image by Eva-Katalin via Canva
Advice from a Physical Therapist
I have been a physical therapist for the past 23 years and I have worked with people who have had a knee replacement and a strong desire to run. The following is for informational purposes only and is not meant as direct advice to people who have had a knee replacement. I am basing the following information on my clinical experience with patients and the research related to running following a knee replacement.
Here is what I advise my patients who ask me about running after a knee repalcement:
1. If you have no prior experience running I strongly discourage starting after a knee replacement.
2. I have never advised any of my patients to start running 6 weeks after a knee replacement. This is too early and I have never met a patient who has the strength, coordination, range of motion and ability to run at 6 weeks following a knee replacement. Consider that people between 18-30 years old following an anterior cruciate ligament or ACL reconstruction take 12 to 14 weeks to start joggging. How than is it possible for a person who is 50+ to start running at 6 weeks following the total replacement of their knee joint?
3. I recognize that for some patients running is related to their mental health and they often will tell me they need to run! I do my best to work with these patients and we discuss the benefits and the risks of running and ultimately the patient decides if they want to resume running.
4. I always ask patients to show me how they run. I once had a very long discussion with a patient where I explained to him all of the risks of running and then I watched him run. In his case he did not have a flight phase in his running, meaning both of his feet never left the ground at the same time, in which case his running would be classififed as fast walking. I happily gave him the clearance to start because I did not think his form of running was putting his replaced joint at risk.
5. People who are 50+ move differently than people who are 20. This statement is not meant to ageist but in my clinical practice I have observed people jogging and running when they are 50+ and the level of stress that they are putting on their joints does not appear to be as drastic as a younger person who is running. This is not to say that a person who is 50+ can not have great running form but chances are their speed and power are less than when the same individual was 20 due to physiological changes. For this reason I think it is important to ask a person who really wants to run to demonstrate their current running form and determine if they are truly putting excessive stress on their replaced joint. Or does their modified jogging form demonstrate less speed, power, and force and therefore may not be putting them at a greater risk of damaging their replaced joint. Again to make this determination I recommend a shared-decision making approach as mentioned above in this blog.
Conclusion
The lack of well-defined guidelines regarding running after a knee replacement creates many questions for people following a knee replacement. There are many factors, outcomes, risks and benefits related to running after a total knee replacement, so there is no clear answer. Speaking to your surgeon about running can allow you to create a treatment plan tailored to your situation. If you choose to run, there are many things that you can keep in mind to ensure you are being safe. However, if you decide that running may not be safe following your knee replacement, there are many other ways to be physically active. Alternatives to running are other endurance activities that are similar to running but are less demanding on your knees, such as cycling and power walking. We've also written a great blog about activities that you can do after a knee replacement here.
Want to learn more about knee replacements? Try the Curovate app, an evidence-based app that will provide you with a physical therapy plan, guided video exercises and ways to measure and monitor your rehabilitation progress! Download Curovate today by clicking the links below.
Other recommended blogs
References
1. Healy, W. L., Iorio, R., & Lemos, M. J. Athletic activity after total knee arthroplasty. Clinical Orthopaedics and Related Research (1976-2007). 2000; 380: 65-71.
2. McGrory, B. J., Stuart, M. J., & Sim, F. H. Participation in sports after hip and knee arthroplasty: review of literature and survey of surgeon preferences. In Mayo Clinic Proceedings. 1995; 70(4): 342-348.
3. Kuster, M. S., Spalinger, E. S. T. H. E. R., Blanksby, B. A., & Gächter, A. N. D. R. É. Endurance sports after total knee replacement: a biomechanical investigation. Medicine and science in sports and exercise. 200; 32(4): 721-724.
4. Jaczewska, J., Deszczyński, J., Stolarczyk, A., Nagraba, Ł., Mitek, T., & Gosek, K. Sports activity of patients after total knee arthroplasty. Arthroscopy & Joint Surgery, 7. 2011.
5. Bradbury, N., Borton, D., Spoo, G., & Cross, M. J. Participation in sports after total knee replacement. The American journal of sports medicine. 1998; 26(4): 530-535.
6. Thaler, M., Khosravi, I., Putzer, D., Hirschmann, M. T., Kort, N., Tandogan, R. N., & Liebensteiner, M. Twenty-one sports activities are recommended by the European knee associates (EKA) six months after total knee arthroplasty. Knee Surgery, Sports Traumatology, Arthroscopy. 2021; 29(3): 694-709.