Image by abalcazar and scottbeard via Canva
A common concern for individuals following a knee replacement is if they can live alone after a knee replacement. Research shows that recovery for individuals who lived alone versus those who lived with others were similar following a knee replacement. For example, the rate of complications after leaving the hospital was about 8% for both groups. [1] The two groups also had similar levels of pain relief and satisfaction scores during recovery. Six months after surgery both groups also had similar joint function. If you live on your own you may be very concerned about the types of activities you can and can't do after your knee replacement including how to shower and use the bathroom on your own. Keep reading and learn how to shower and use the bathroom after a knee replacement.
How do I Shower After a Knee Replacement?
Preparation
It is important to set-up your home before surgery in order to make things easier following your knee replacement. This includes installing the correct devices that will help when taking a shower, such as a shower chair, grab bars, a hand-held shower head and a non-skid rug. [2] Ensuring you have a place to sit and change after you shower is also important. Using a bathtub increases the risk of falling due to the ledge and curved floor, so it is preferable to use a shower if you have access to one. However, if you do not have a shower and will be using a bath tub the same devices as well as a tub-transfer bench will be useful. [2]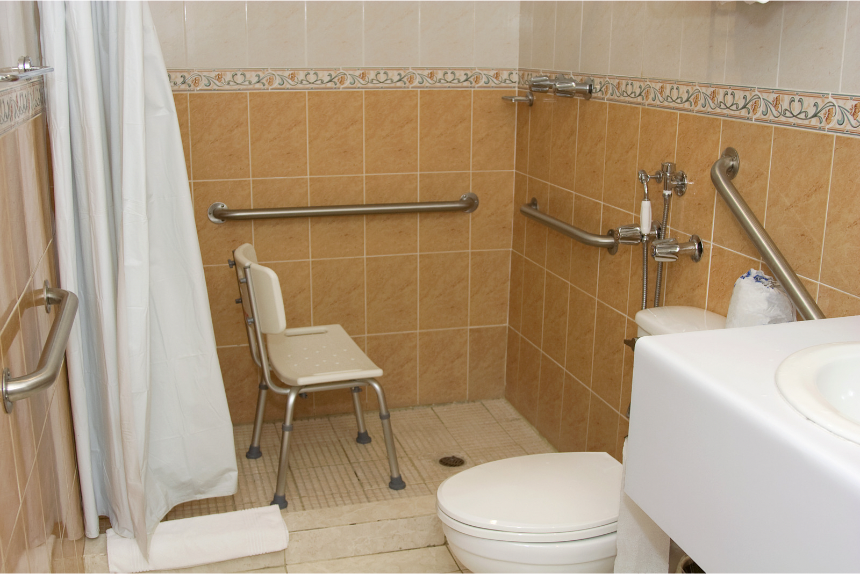 Image by abalcazar via Canva
It is important to consult with your surgeon as to when you can shower following your surgery. This is because the bandages used by surgeons and doctors differ as some bandages are waterproof whereas other bandages are not. If you do not have waterproof dressing and you have sutures, staples or stitches you can cover your incision with plastic to keep it dry while taking a shower. [3] It is important to protect the surgical site from becoming wet, as this can lead to infection. Infection is the biggest risk factor that a person faces following a knee replacement and keeping the bandage clean and dry is the best practice that you can take after a knee replacement to prevent a knee infection. [4] We have written a great blog about complications after knee replacement here.
Once your doctor says it is safe to shower, it's important to set up the shower or bathtub to use it safely. Set up your soaps, shampoos, conditioners and sponge so they are within easy reach. Next, place your bath towels within easy reach so that you can dry off after getting out of the shower. You can also place the clothes that you will wear once you are out of the shower within reach of where you will sit to dress, such as in the bathroom or near your bed. Finally, enter the shower before turning on the water as water makes the shower floor more slippery. [5]
Entering the Shower
1. If you are using a walker, position your body sideways with the non-operated leg closest to the shower
2. Turn the walker sideways so the back of the walker is against the shower
3. Place one hand on the walker and the other hand inside the shower
4. Bring your non-operated leg into the shower
5. Bring the other hand into the shower and place it on the shower wall or grab the support bar
6. Bring your operated leg into the shower[5]
Exiting the Shower
1. When you are finished showering, your operated leg will be facing the shower exit
2. Place your hands on the shower wall or use the shower bars
3. Step sideways out of the shower, leading with your operated leg
4. Grab your walker with one hand and bring the nonsurgical leg out of the shower
5. Place both hands on the walker and move to a location to dry off and dress [5]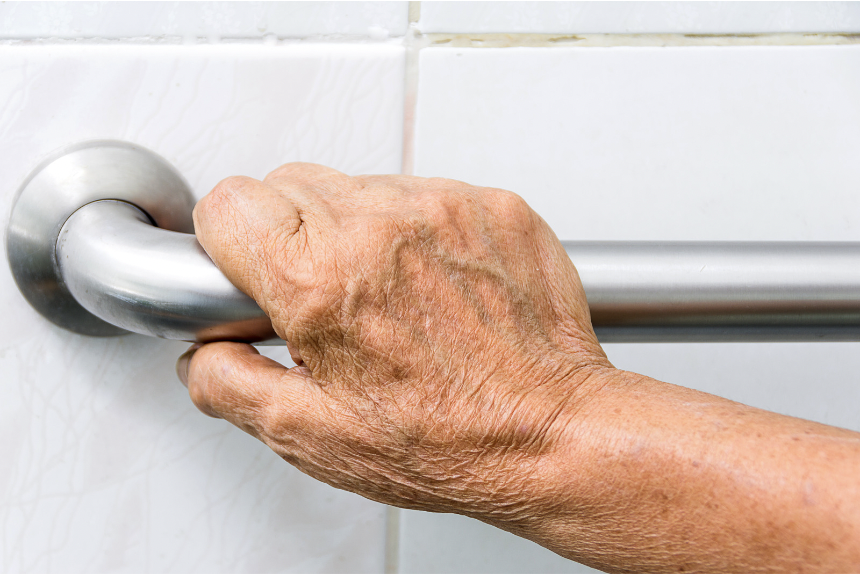 Image by myibean via Canva
If you do not have a shower, and will be using a bathtub, follow the same entering and exiting steps as the shower. A shower bench is also recommended, so that you do not submerge the wounds in water. To learn more about wound care after your surgery check out this blog.
How do I go to the washroom after a knee replacement?
Similar to shower preparation, preparing your bathroom prior to knee surgery will ensure you can comfortably and safely go to the bathroom after your knee replacement. Equipment that will facilitate your ability to use the toilet includes installing toilet safety frames, raised toilet seats and grab bars. [2]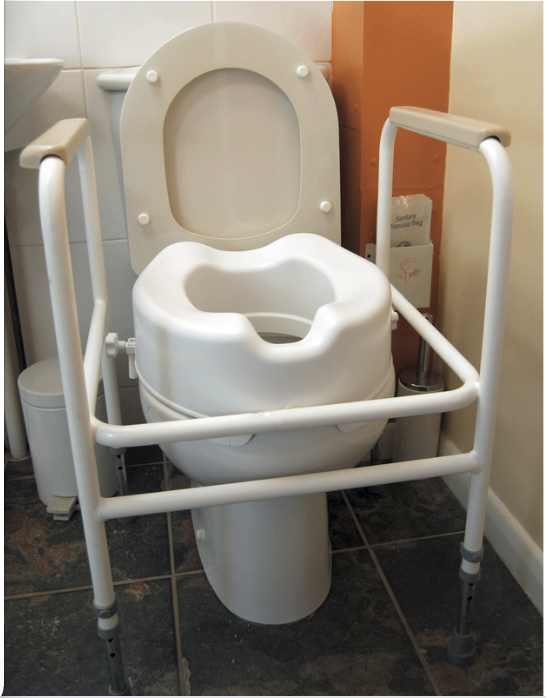 Image by scottbeard via Canva
1. Start by backing up to the toilet until the back of your legs touch the seat
2. Slide your operated leg out in front of you and reach back for the arm supports
3. Slowly lower yourself to the toilet while extending your surgical leg and bending your nonsurgical leg until you are seated
4. Once you have finished, extend your surgical leg and use your non-surgical leg and arms to push yourself up. Do not use nearby towel racks or toilet paper holders to push yourself up, as these objects are not sturdy or stable and are dangerous to use as assistive devices. [6]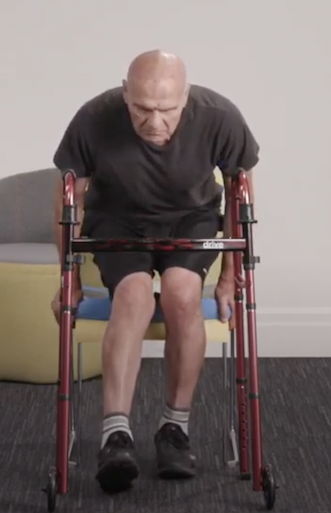 Image by Curovate via YouTube
Conclusion
Returning home following a knee replacement is a concern to many people, especially those who live alone. However, research shows that outcomes for people who lived alone versus those who lived with others were similar. It's important to prepare your home prior to your knee replacement and prepare the space before using the shower or going to the bathroom. This will make the task easier and present less risks. It's also important to be patient with yourself and to take your time, as rushing can lead to injury and unwanted situations.
Want to learn more about knee replacements? In need of an effective guide to your recovery? Try Curovate, an evidenced-based physiotherapy app with guided physical therapy plans, daily video exercises, ways to measure and monitor your progress, and much more to assist you along your journey to recovery! Download Curovate today by clicking the links below.
Download the Curovate App by clicking on the links below.
Other recommended blogs
References

1. Fleischman A, Austin M, Purtill J, Parvizi J, Hozack W. Patients Living Alone Can Be Safely Discharged Directly Home After Total Joint Arthroplasty. The Journal of Bone and Joint Surgery. 2018; 100 (2): 99-106.

2. University of Utah Health. Managing Daily Activities After Kee Replacement. University of Utah Health. Accessed October 10, 2022.

3. Allina Health. How soon can you take a bath or shower? Updated January 2, 2020. Accessed October 10, 2022.

4. Martínez-Pastor JC, Maculé-Beneyto F, Suso-Vergara S. Acute infection in total knee arthroplasty: diagnosis and treatment. The open orthopaedics journal. 2013;7:197–204.

5. Donaldson J. Showering After a Total Knee Replacement: An OT's Recommendations. Age in Place School. Accessed October 10, 2022.

6. VCHOASIS. Sitting on a Toilet [Video]. YouTube. Published October 18, 2012. Accessed October 10, 2022.