Did you know that the purpose of exercises after ACL reconstruction, Total knee replacement, and Total Hip replacement is to reduce pain! You may be wondering - "Should I be experiencing pain during exercise therapy?"
Here's the first thing you need to know about pain – it is not just a 'feeling'; it is more of an experience! Everyone perceives pain differently. Some people have a high pain tolerance, and some have a lower pain tolerance. What may 'feel' painful to you, may be much worse for someone else.
It is no surprise that pain during rehabilitation exercises may occur especially in exercises to improve the amount of movement for your knee or hip joint, also called range of motion. Pain during rehabilitation exercises is okay and does not mean that you are causing harm to your body or your recent surgery. It is recommended that the pain level during exercise on a scale of 0 to 10 (10 being the worst pain ever imaginable, and 0 being no pain at all), should be no more than 2 to 3.[1] If there is a sudden burst of pain at the start of the exercise (which is normal) or if the pain increases during exercise, take a break, and start again at a slower pace or lower weight.[1:1]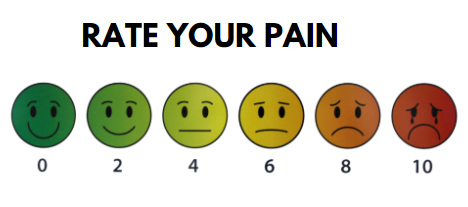 Image by sneakpeekpic from Getty Images by Canva
You may feel some soreness following exercise, but this should go away within a few hours after completing your exercises. However, if this soreness lasts more than 4 hours, you will need to see your physical therapist to reduce the intensity of your exercise program.[2]
3 important things to keep in mind about pain during exercise:
It is normal to experience pain with exercises (especially exercises intended to improve your knee or hip movements), but it is more important to move your joint as you have been advised by your health care provider to prevent stiffness.[3]
Avoiding exercises that hurt, but have been specifically recommended to you, can delay your recovery and may result in activity limitations after surgery.. Therefore, good pain control is necessary with your exercises. Pain medication, as prescribed by your health care provider, should be taken 45 minutes to an hour before exercises and ice the area afterwards for 20 minutes.[2:1]
You will be able to progress your exercise when there is minimal pain and your physical therapist advises you to progress your exercises.[3:1]
Curovate app has all your daily exercises for ACL, Total knee replacement and Total hip replacement rehabilitation as well as built in reminders and timers for swelling control! Download the app now with the links below.
References
---
Ageberg E, Link A, Roos EM. Feasibility of neuromuscular training in patients with severe hip or knee OA: the individualized goal-based NEMEX-TJR training program. BMC Musculoskelet Disord. 2010 Jun 17;11:126. ↩︎ ↩︎

Total Knee Replacement Exercise Booklet. Sunnybrook Health Sciences Centre [Internet]. [cited 2020 Oct 24]; Available from: https://sunnybrook.ca/uploads/TKRexerciseUpdate.pdf ↩︎ ↩︎