If you have had or are going to have a knee replacement, then you have probably wondered about what kind of exercises and sports you will be able to do when you have recovered.
It is important to begin a knee replacement rehabilitation program as soon as possible after surgery. The faster your operated leg regains its strength and flexibility, the more likely you will be to see improvements in your independence and with activities of daily life.[1]
At 13 to 16 weeks after knee replacement surgery, it would be a good time to begin some endurance activities but there are some requirements before you start:
You must have minimal to no pain in your knee.
You must have minimal to no swelling in your knee.
You must be able to bend and straighten your leg almost as well as your non-operated leg.
You must be able to walk fast without walking aids (walker or cane) or limping.
You must be able to walk for 20 minutes without experiencing pain or swelling.
Speak to your healthcare provider before beginning any new exercises, especially if you are not sure if you meet the five requirements listed above.
The charts below provides recommendations for patients following knee replacement 13-16 weeks AFTER surgery. These charts have been adapted from a clinical commentary released by the Journal of Orthopaedic and Sports Physical Therapy in 2008. A clinical commentary is written by a group of clinical experts when there is no definitive answer provided by research. This means that there isn't a study that says *"golf is safe after 16 weeks." So a group of experts decided this based on what they know and the research that is available.
Our physical therapist, Nirtal Shah, states: "Some of these activities may be possible before 13 weeks such as stationary biking, others around 13 weeks such as swimming and some may take 8-12 months such as golf, skiing and doubles tennis. This is a guideline and should be used with the guidance of a health care provider."
It is important to remember that your recovery from surgery should be a slow and steady process. Doing your rehabilitation exercises everyday will allow you to be more mobile as you recover and get you back to doing the activities you love! Also you can find the link to our app for total knee replacement rehabilitation to help you return to the physical activity you love at the end of this blog.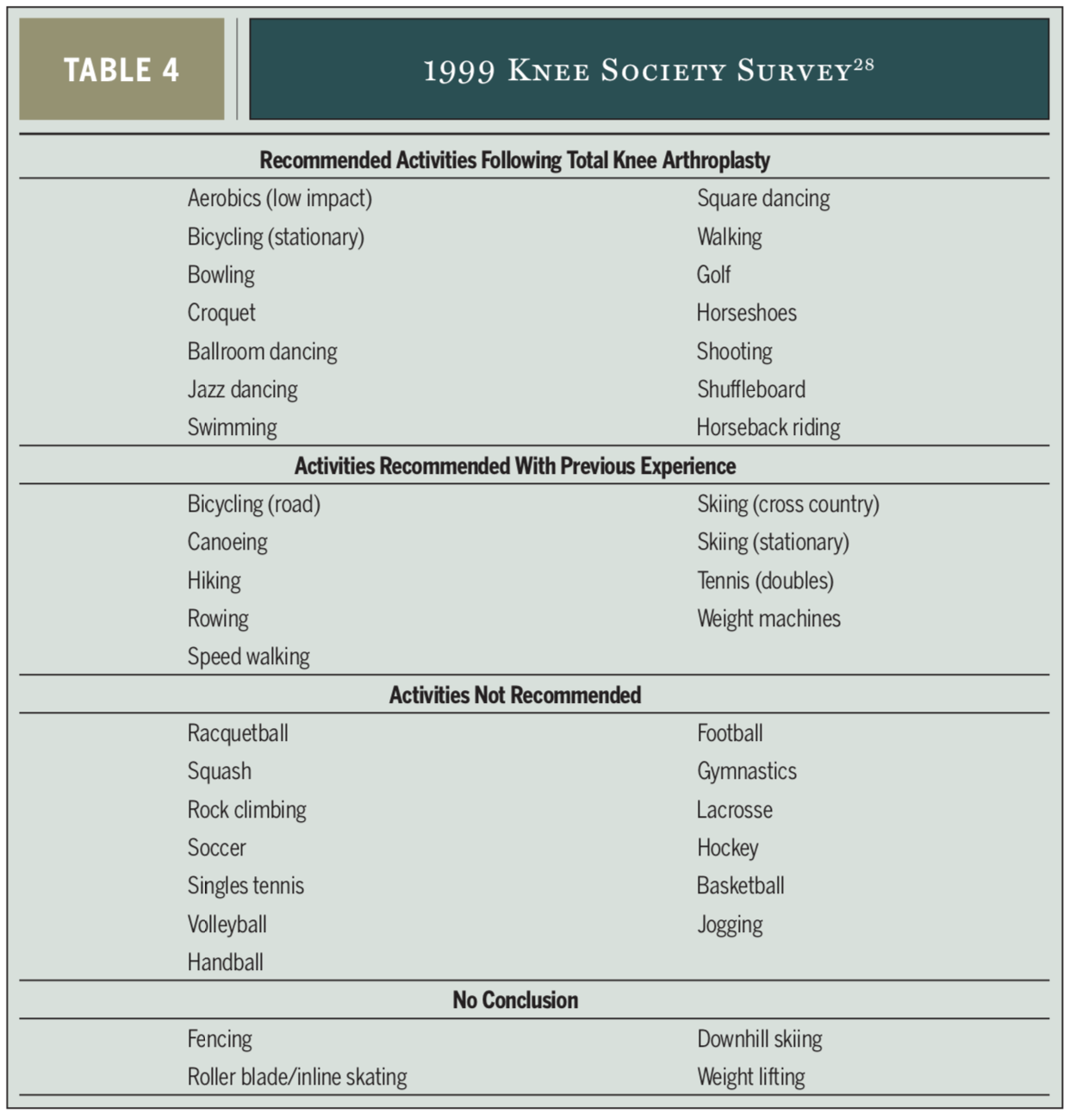 Reference
---